2022.03.16
LocationMind's international division team visited the Embassy of the Sultanate of Oman in Japan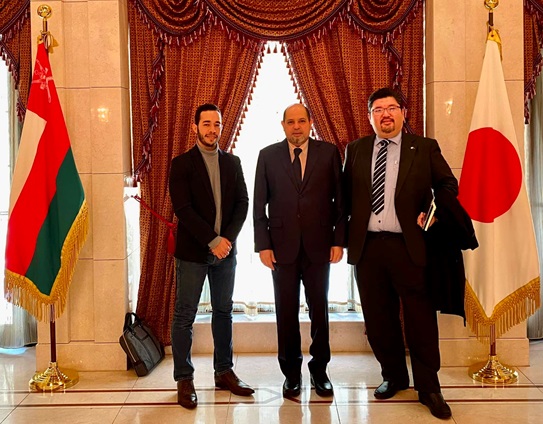 On March 1, 2022, LocationMind's international division team visited the Embassy of the Sultanate of Oman in Japan.
During the visit, they met with H.E. Dr. Mohamed Said Khalifa AL BUSAIDI, Ambassador Extraordinary and Plenipotentiary of the Sultanate of Oman, to discuss LocationMind's technology, the services it offers, and its vision for the future.
The Sultanate of Oman launched the "Oman Vision 2020" in 1995 with the aim of diversifying its industry. This vision was renewed in 2019 to become "Oman Vision 2040" and the Sultanate of Oman is committed to further growth.
LocationMind emphasized that its human flow analysis and artificial intelligence technologies can contribute to "Oman Vision 2040" and expressed its interest to do business in the Sultanate of Oman in the future.
Middle of the photo: His Excellency Dr. Mohamed Said Khalifa AL BUSAIDI, Ambassador Extraordinary and Plenipotentiary of the Sultanate of Oman
Right: Anwar Kashgari, business consultant, LocationMind
Left: Mohamed Batran, AI consultant, LocationMind