2021.10.11
お知らせ
LocationMind exhibits 'Small World AI' at DigitalxADB Virtual Tech Expo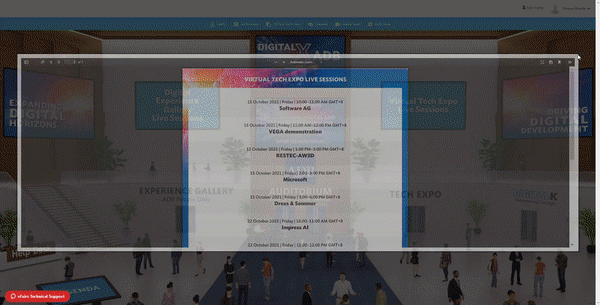 Digital technologies are today's most powerful drivers of change. DigitalxADB, a virtual tech expo, aims to raise awareness and build broad consensus within ADB to continue focusing on the digital opportunities that lie ahead in a world reshaped by COVID-19.
DigitalxADB is the third in a series of annual knowledge-sharing events co-organized by the Information Technology Department, Sustainable Development and Climate Change Department, and Private Sector Operations Department. The event is for ADB's staff members, consultants, contractors, and partners to learn about and participate in further integrating digital technologies into ADB's workflow. The virtual exhibition will be available online from 11th Oct to 29th October.
As a virtual exhibitor, LocationMind showcases its 'Small World AI' Technology. LocationMind's Small World AI project focuses on solving this challenge. Small World AI stands for Spatial Multimodal ALL-World Artificial Intelligence. Within the growing ambit of Machine Learning and AI, we introduce Spatial Multimodality. We combine two distinct areas of advanced Geo-analytics- Geospatial datasets creation and Multilayered AI configuration to analyze these datasets. Such a dual-prong approach helps reduce redundancy in data and eases replication anywhere globally, making it an All-World AI.
Small World AI has provided insights in various fields, especially for the COVID-19 situation in Japan. Geospatial data has played an important role in estimating the threats and impact of the pandemic and further aided decision-making.
Visit the exhibition. To know more about 'Small World AI' & LocationMind - Contact Us.